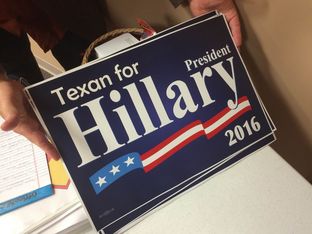 Making her first trip of this campaign to the Rio Grande Valley, Democratic presidential front-runner Hillary Clinton on Friday plans to put in face time with local donors and officials, including an evening fundraiser at the McAllen home of Alonzo Cantu, a construction magnate who has long been among Clinton's most generous boosters in the Valley.
An invitation indicates donors will fork over at least $2,700 to attend the event.
Clinton has no public appearances scheduled, but campaign officials are expected to meet with local lawmakers and county officials Friday afternoon at a conference center in Edinburg.
More broadly, the trip is a part of Clinton's outreach to Latino leaders. State Reps. Terry Canales, D-Edinburg, and Eddie Lucio III, D-Harlingen, received invitations to Friday's events. Both said they would like to get Clinton's take on regional concerns such as heath care and border issues.
"I'd like to hear what her plans are for Texas," Canales said, "and what she would do to not only help bolster the economy in Texas, but to help increase and strengthen border relationships."
"I'd probably put a little bug in her head about our relationship with Mexico and their delivery of water or lack of," Lucio said of tension surrounding Mexican compliance with a 1944 water treaty.
Clinton will not be the first 2016 candidate to head south this election cycle. The two White House hopefuls from Texas, U.S. Sen. Ted Cruz and former Gov. Rick Perry, have already made stops in South Texas to raise money.
Cantu counts as Clinton's biggest booster in the Rio Grande Valley, a key fundraiser who can tap his professional networks to help fill her coffers. His most recent donations include a $25,000 contribution in 2013 to Ready PAC, a super PAC that laid the groundwork for her run, and a $2,700 check — the maximum amount — in June to her official campaign.
Both Clintons enjoy a long history with South Texas. Bill and Hillary Clinton spent a semester working for George McGovern's Texas campaign in 1972. Hillary Clinton registered black and Hispanic South Texas voters for the Democratic National Committee.
South Texas became the "Clinton basement" for Bill Clinton's 1992 presidential campaign in the state after his staff secured a slew of endorsements from local elected officials, said Garry Mauro, a former Texas land commissioner and longtime Clinton adviser. In 2008, the region made a huge difference for Hillary Clinton as she struggled to halt Barack Obama's primary momentum.
"She flew into El Paso and then we went down to McAllen and Corpus and San Antonio and re-energized the old South Texas Clinton machine," Mauro said. "We went from being 18 points down in the polls to being ahead in the polls in about a week."
Clinton first visited the state as a 2016 candidate in June, when she delivered a Houston speech that accused Republicans of a systematic effort to restrict voting rights. Ahead of her Friday trip, the Texas GOP used those remarks to tie her to state Democratic Party Chairman Gilberto Hinojosa, a lawyer whose clients include a Weslaco municipal candidate at the center of a 2013 election that remains in dispute.
"Hillary's hypocrisy on voter fraud has been unintentionally exposed by Chairman Gilberto Hinojosa," Tom Mechler, chairman of the Republican Party of Texas, said in a statement. "Voter fraud is real a problem in Texas, and for proof, look no further than the case in Hidalgo County that the head of the Texas Democratic Party is defending."
http://www.texastribune.org/2015/08/07/clinton-make-first-campaign-trip-rio-grande-valley/
Do you like this post?
---